You're reading this because something needs to
change

. Like, yesterday.

Change is inevitable but not everyone changes for the better..

Right now, you may struggling with:
Lack of motivation and discipline
Being on a rollercoaster with your fitness, nutrition and mindset
Not being proud of the person you're becoming

Wanting to look and feel great but nothing seems to last



Not reaching your full potential and being the best version of YOU
---
You can't change 5+ years of habits and belief systems (BS) over night. This page isn't meant to solve ALL your problems.. But it is meant to awaken your greatness within - your truest and fullest self who is fit and capable for life. I believe you are reading this for a reason. You were born to win and you are made to reach your fullest potential.
These are a couple stories of guys who discovered their potential in powerful ways. My goal is to help simplify your approach with your fitness, nutrition, and mindset. No more wasted time and energy going in a hundred different directions until you give up on yourself. This is why I created BFIT for guys just like YOU - men who know they must become more for their family and future.
If this is resonating with you, great! Keep on reading..
---
Ultimately, you're looking to:
Get in

alignment

with your body and mind

Activate more energy and become more you

Move

confidently

because you're running towards your potential
Live in optimal health today and in the future - longevity
---
These are real stories from real people I've worked with through BFIT. Each of them are on a journey of awakening, transforming and growing as they navigate their life, career and relationships from a new, made for more perspective.

---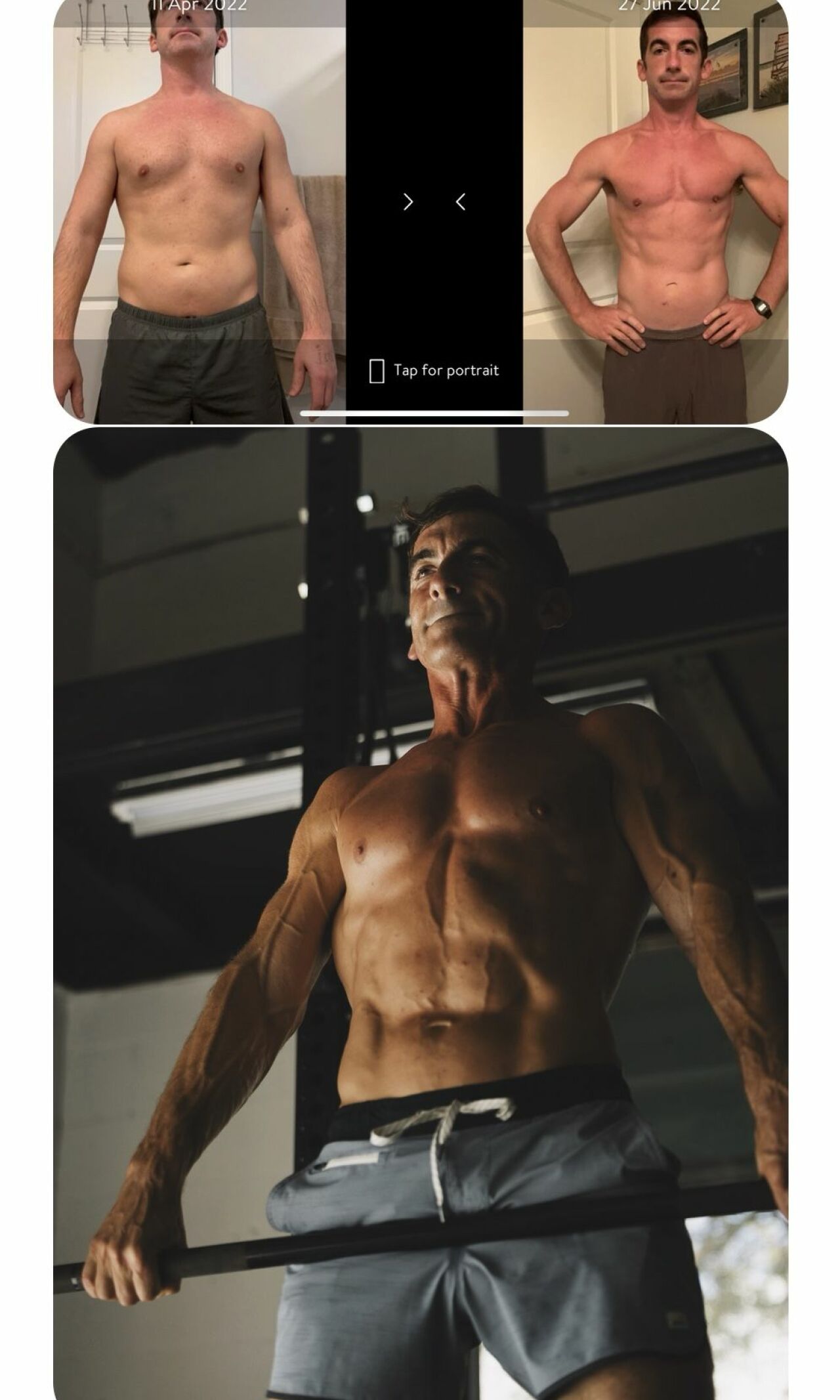 Michael began with me in April of 2022. I'll let him tell his powerful story:
To summarize my transformation: I went from frustrated, stuck, and disconnected.. to connected, hopeful, and aligned in ALL areas of life.
The combination of the mind, body and spirit caught my attention - I always approached fitness, my purpose and overall health from isolated approach.. I was curious how Brian would relate them. I was also looking for a community and saw that he did an online Bible study, Salt x Light, and wanted to try that out too. BFIT and SALT x LIGHT completely changed the game for me.
In Feb 2022, I was frustrated. Burnt out. I had enough with the status quo and I knew that I needed to change. Dave Ramsey says it best…"If you keep doing what you've been doing, you'll keep getting what you've been getting." Simple and powerful truth.
How have I changed from a year ago?
I am completely different. Everything is different. I put everything on the table. No part of my life was off limits for upgrade and ALL of them got upgraded.
I'm not perfect but I AM moving in the right direction.
The journey and work never end. Each day I work to get 1% better.
The BFIT community is the GAME CHANGER.
From Brian, Clint, and Jake to the guys that I met at the BFIT In person event.. These guys are the real deal. A program and community like this is much needed and a mission that I want to support and build.
My ONLY hesitations were belief, trust, and cost.
Yes, it's an investment, but I have tried the cheap way before, and it does not work.
My previous investment of $125 a month for online programs from a local trainer got some results but not to this level and did not sustain. The cost wasn't high enough for me or the local trainer to be all in. $125 a month was not high enough to move me because not getting the full value out of that amount wasn't a big deal in my world.
The BFIT investment was high enough to change my behavior and make me go all in. I don't waste my time or energy so it was all in for me. I would feel the loss of the investment if I did not do the work. So I did and I got the results that I dreamed of and never really believed were possible!
The transformation is unreal. I'm unrecognizable to family and friends from a holistic perspective. People keep asking how in the world I got this way and what in the world I get from an online trainer. The right coach makes the difference because you can find free workouts and learn macros for free on the internet.
I learned the payoff of the right investment at a cost high enough to make me value it and prioritize the work and effort to get what I wanted. Now, I am applying the same principle in other areas of my life.
I think of it in terms of the good, better, best model in business.
Fit in Body = Good
Fit in Body + Mind = Better
Fit in Body + Mind + Spirit = Best
For real results that last you need a program that works and the power of a coach (real relationship) Brian showed me how to make the switch. And when I did, the game changed.
---


Scott joined BFIT at the end of summer 2022. With the help of Coach Clint Murray, he began transforming his life - starting with his body and mindset:
Brian caught my attention while on Facebook because it was a full package fitness program. I was in a place in my life where I needed so much more than just to get physically fit. I needed to change my mindset and reconnect with God.
At the time, I was going through a divorce and I let go of myself physically. I couldn't stand what I saw in the mirror. I knew I needed to change and also work on my mentality to start loving myself again.
I tried my way of "working out" and "my nutrition plan" before BFIT but that never lasted. I was running 3 times a week for 3-4 miles and only eating one meal a day.. Now I realize I was only digging myself into a deeper hole.
Before BFIT, I constantly had a fake smile on my face and I seemed happy to those around me. I was going through a slight depression and didn't even know it at the time.
What made me take action was my initial Zoom call with Brian. It went great! I instantly felt comfortable and welcomed into the BFIT community. We decided I would work with Clint one on one throughout the program and it has been a blessing. Clint's general knowledge is amazing, but even he will tell you he is obsessed with nutrition. I knew nothing coming in about nutrition and was ready to drink through a fire hose to learn. On the physical fitness portion, Clint is constantly pushing for heavier weights as he sees my progress and has been encouraging since week 1. Clint's coaching is the reason I didn't hesitate to sign up for Phase 2
Initially, I felt a little guilty about spending the money on myself, but realized I hadn't done anything to better myself in a very long time and I needed the push. Worth every cent so far.
The biggest change I've noticed in my life is that I used to stay up late and wake up in just enough time to check a few emails and get down the road. Clint has helped me develop a morning routine that prepares me to conquer the day/week. It all begins at 4 am and is the best way to start the day.
There are 3 obvious benefits from BFIT for me:
#1 Energy: I pop up every morning ready to go and no fading in the afternoon. I can finally get through a full day of work and come home with energy still to do projects around the house.
#2 Strength: There was a time before BFIT where I would be sitting on the couch dehydrated, drinking a beer, and just feeling awful. Now, I am overly hydrated and can't stand recovery days because I want to constantly be doing something. My athleticism has finally come back because I have all my strength back from my 20's and then some.
#3 Happiness: This may be a weird one when describing the benefits of the program, but I am finally back to the old me. I am truly happy again and I had lost that several years ago. I am really sad that my 29-33 year old self didn't see the shape I was in and do something about it. I will be 35 in February and aim to be in the best shape of my life by that point. I am well on my way and absolutely loving the life I live.
If I am being brutally honest, I wasn't expecting these results. I also had major doubts if I would stick with it. Clint answered every single question I have had, never made me feel less than, and showed me what life in your 50's can look like if you take care of yourself! Can't thank him enough for keeping me motivated.
All in all, I was worried about looking foolish due to my lack of knowledge on working out and nutrition. Brian and Clint have both made me feel welcomed and comfortable through this process. If you are like me and not a gym person, they can help you transform yourself with a few different pieces of equipments that you can buy over time. I started off with 3 different sizes of dumbbells, a couple of bands, and a jump rope.
If I didn't sign up for coaching, I would likely still be overweight, slightly depressed, drinking too many Miller Lite's on the couch, and thinking 1 meal a day was a solid nutritional approach.. This program has truly changed my life for the better and can't thank Brian and Clint enough